It was a frustrating night for Chukwueze who still managed to create the move that led to Villarreal's only goal.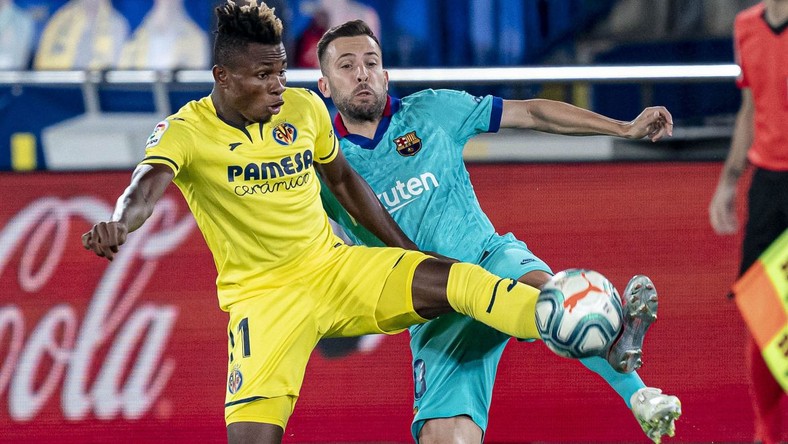 The stage and circumstances were perfect for Samuel Chukuweze. Villarreal, with five wins in six games, had gone unbeaten since La Liga resumed actions after lockdown while Barcelona had seen their title defence flounder.
For Chukwueze, the forward was beginning to look like the player he was in his debut season at Villarreal. Since La Liga restart, the Nigerian has had some fine performances for Villarreal, providing the spark for their wins against Mallorca and Celta Vigo.
This was the game to remind everyone of his talent and soar his reputation just like he did last season with eye-catching performances against Real Madrid and Barcelona.
The 21-year-old as usual started on the right side of midfield but couldn't get hold of the ball as Barcelona dominated possession. Barcelona's dominance, especially in the first half, was because they outnumbered Villarreal in midfield which meant they had the ball most of the time.
Villarreal looked for opportunities to isolate Chukwueze and Jordi Alba but they struggled to hold on to possession.
With no chance to run at Alba and create something, Chukwueze had to do it from deep. A pass from his half to Paco Alcácer opened up Barcelona's defence and led to a goal from Gerard Moreno to bring Villarreal level.
While Barcelona continued to dominate possession, Chukwueze remained Villarreal's most dangerous player. He continued to push the attack and go at Alba but without much success. He got a chance in the 30th minute. He ran at Alba, cut into his left but his shot went over the bar.
In the second half, Villarreal didn't improve as Barcelona continued to dominate the game but Chukwueze managed to get some chances.
Samuel Chukwueze and Villarreal teammates (Twitter)
Twitter
He intercepted a pass from Nélson Semedo but his second touch was so heavy as Marc-André ter Stegen rushed out to collect. He had the chance to drive inside the Barcelona box again but his shot was straight at Ter Stegen.
In his 90 minutes of action, the Nigerian got one shot on target and two shots off target in a frustrating night for him.
In defence, he was found wanting for Barcelona's first goal as he failed to track Alba whose cross led to an own goal.
In the end, it wasn't just a frustrating performance from Chukwueze but the whole Villarreal side who lacked vim and vigour all through the game.